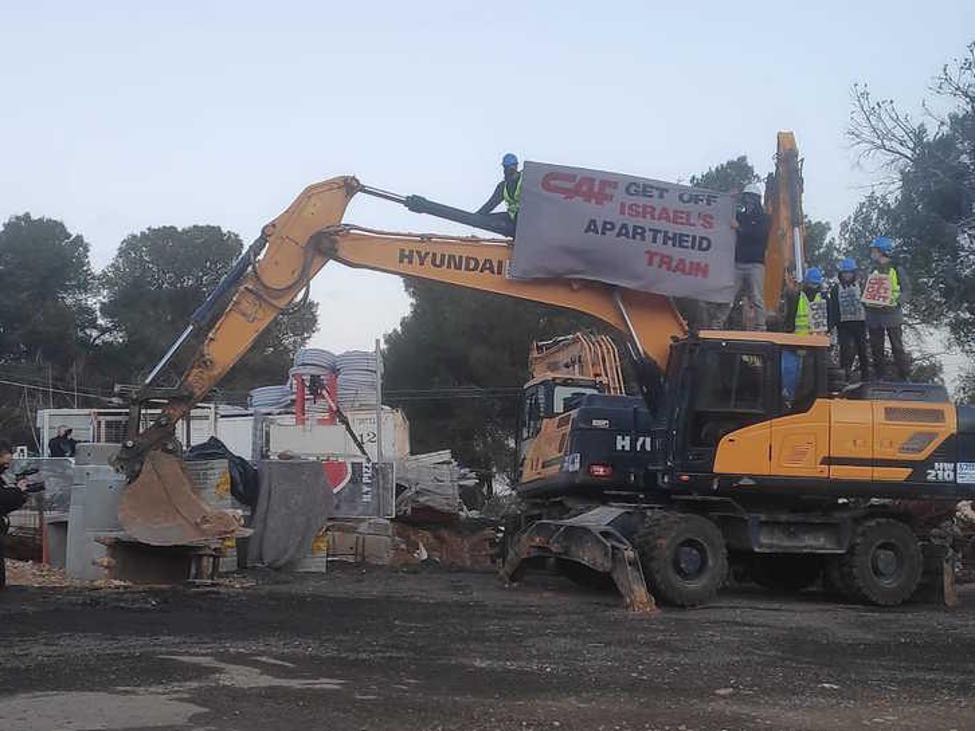 UN, blacklist construction company CAF for contributing to the expansion of illegal Israeli settlements
UN, blacklist construction company CAF for contributing to the expansion of illegal Israeli settlements
Over 30 prominent human rights organisations, networks and trade unions from Palestine and Europe have submitted a report to the Office of the United Nations High Commissioner for Human Rights (OHCHR) in Geneva, demanding that Construcciones y Auxiliar de Ferrocarriles (CAF) be included in the UN database(opens in new window) of businesses involved in Israel's illegal settlement enterprise for its role in expanding and operating Israel's Jerusalem Light Rail (JLR), entrenching Israel's illegal settlements in occupied and annexed Jerusalem.
CAF Joint Submission to OHCHR UN Database (895 downloads)
Organisations who submitted the report include Amnesty International Spain, Al-Haq, the Cairo Institute for Human Rights Studies (CIHRS), the Centre for Research on Multinational Corporations (SOMO), 11.11.11, CNCD-11.11.11, the European Legal Support Centre (ELSC), NOVACT – International Institute for Nonviolent Action, The Rights Forum, Transnational Institute (TNI) and War on Want.
The UN database of companies involved in Israel's illegal settlement enterprise was published(opens in new window) in February 2020, listing 112 Israeli and multinational companies, including CAF's Israeli partner in the JLR, Shapir. OHCHR is mandated to annually update the database. In 2016 and 2017, the UN Human Rights Council deemed the JLR illegal, saying it is "in clear violation of international law and relevant United Nations resolutions."
The joint report submitted to OHCHR explains that, "By connecting and facilitating mobility between the settlements, West Jerusalem, and Israel, the JLR substantially contributes to the maintenance and expansion of Israel's illegal settlements in occupied East Jerusalem and to the entrenchment of Israel's illegal annexation of the city, ultimately consolidating Israel's annexation of occupied Palestinian territory contrary to international law." Maha Abdallah from the Cairo Institute for Human Rights Studies said: "In carrying out the project in occupied and annexed East Jerusalem, CAF is involved in gross and systematic violations of fundamental human rights against Palestinians." Abdallah added "The construction of the existing 'Red Line' has already resulted in significant expropriation of Palestinian property, while the new 'Green Line' will serve the settlement of Gilo among other illegal settlements, whose existence and growth deprives Palestinians access to and use of their land and resources."
To this end, the OHCHR must fulfil its mandate in its entirety by annually updating the UN database to include companies involved in Israel's illegal settlement enterprise(opens in new window) – as originally mandated by the Human Rights Council in resolution 31/36 of 2016. Wesam Ahmad, Al-Haq's Business and Human Rights Coordinator, said "The database is an important tool for exposing the economic incentive structure that has allowed a military occupation to mutate into a situation of contemporary colonialism and the role of businesses such as CAF, must be addressed in the annual update."
Giovani Fassina, ELSC's Programme Director said: "The continued operation of CAF in the oPt is illegal under international law. By putting business interests above the rights of Palestinian's living under a prolonged and illegal occupation, CAF has chosen to put profit before humanity. We hope that by including them on the UN database, CAF will hear the call of civil society and withdraw from the JLR project."
In February 2020, 70 Basque groups launched(opens in new window) a campaign calling on CAF to withdraw from the JLR. Two weeks ago, people all over Basque Country – in Iruña, Bilbao, Gasteiz, and Oñati – protested to demand(opens in new window) that CAF stop building the JLR. Kepa Torrijos from Sodepaz, one of the signing organisations from the Basque country said: "Groups in the Basque country are working tirelessly to end Basque complicity with Israeli apartheid. We are closely working with trade unions inside of CAF who from the very beginning also called for the company not to participate in the bidding. The key workers council(opens in new window) at CAF's headquarters in Beasain has called(opens in new window) for CAF to withdraw from the project. We are also connected with groups all over Europe who are trying to get CAF excluded from public tenders until CAF ends its involvement in Israeli apartheid."
In addition, Spanish human rights organisations(opens in new window) , trade unions(opens in new window) in Norway, and civil society groups(opens in new window) in the UK (opens in new window) are calling on CAF to be excluded from public contracts in their countries due to its construction of the JLR.
On Tuesday, 15 December 2020, Israeli activists blocked(opens in new window) construction of the Jerusalem Light Rail in Gilo settlement. They held a banner saying "CAF Get Off Israel's Apartheid Train" and called for CAF to withdraw from the JLR Project.
The statement is also available in Arabic(opens in new window) on the website of the Cairo Institute for Human Rights Studies.
Full list of signatories:
11.11.11
Al-Haq
Amnesty international Spain
Association France Palestine Solidarité (AFPS)
Belfast Trades Union Council
Cairo Institute for Human Rights Studies (CIHRS)
CNCD-11.11.11
Comité Solidaridad con la Causa Árabe – santiglez@hotmail.es
Craigavon Trades Council
European Coordination of Committees and Associations for Palestine (ECCP)
European Legal Support Centre (ELSC)
European Trade Union Network for Justice in Palestine
Fagforbundet – Norwegian Union of Municipal and General Employees
ICAHD Finland
Mundubat
Northern Ireland Public Service Alliance (NIPSA)
Norwegian People's Aid
Norwegian Union of Railway Workers
NOVACT – International Institute for Nonviolent Action.
Palestinian Center for Human Rights (PCHR)
Palestinian Human Rights Organizations Council (PHROC) and its members:
Al-Haq
Law in the Service of Mankind
Al Mezan Center for Human Rights
Addameer Prisoner Support and Human Rights Association
Palestinian Center for Human Rights
DCI – Defense for Children International – Palestine
Jerusalem Legal Aid and Human Rights Center
Aldameer Association for Human Rights
Ramallah Center for Defense of Liberties and Civil Rights
The Independent Commission for Human Rights (Ombudsman Office) – Observer Member
Muwatin Institute for Democracy and Human Rights – Observer Member
Paz con Dignidad
Plateforme des ONG françaises pour la Palestine
Sodepaz
SUDS
The Centre for Research on Multinational Corporations (SOMO)
The Rights Forum
Transnational Institute (TNI)
Union syndicale Solidaires
War on Want
Women in Black (Vienna)