SOMO
Land ownership in Colombia
Land ownership in Colombia
Posted in category:
Written by:
Written by:
Yamile Salinas Abdala
Written by:
Camilo González Posso
This report documents the dynamics of land ownership and concentration of land in the hands of a few in the Altillanura, a sub-region of the Orinoquía in Colombia, bordering Venezuela and Brazil. The full report is in Spanish; an extensive English summary that relates the context, the main insights and conclusions is also available.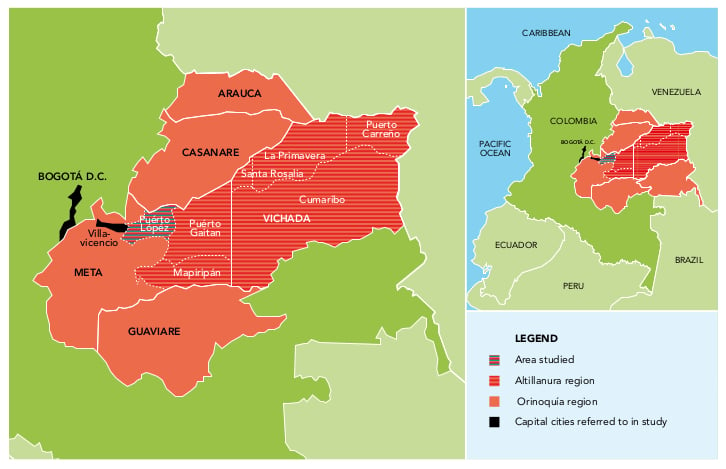 The Altillanura (and the Orinoquía) region knows a historical presence of illegal armed groups, massive and systematic human rights violations and violations of international humanitarian law, low levels of governability and governance, and land grabbing dynamics in the midst of legal and illegal agrarian reforms and counterreforms. SOMO and its Colombian partner Indepaz researched the underlying structural legal and political causes of a continuing unequal distribution of land.
The research took place as part of a project on multinational corporations in (post)-conflict Colombia. It seeks to monitor the implementation of the human rights and business guidelines and standards to which the Colombian government has agreed,  through an analysis of the policies and practices of companies operating in Colombia.
This report follows previous research on two specific companies, namely Poligrow – an Italian-Spanish company in Mapiripán – and the Canadian Pacific E&P – now Frontera Energy Corporation in Puerto Gaitán. For this study, we focused on Bioenergy, a subsidiary of Ecopetrol, in which the Colombian state is a majority shareholder.
All three cases are large-scale economic projects requiring extensive areas of land for the production of palm oil (Poligrow and Pacific) or sugarcane (Bioenergy). We focussed especially on the land acquisition practices of these companies and analysed the policies and practices of Poligrow, Pacific and Bioenergy according to relevant national laws and relevant international standards on business and human rights that Colombia aims to adhere to.
The findings in the Bioenergy case are based on the review of existing legislation, policy documents, judicial rulings, company and media reports, as well as on interviews, workshops and focus groups discussions with relevant stakeholders.
Photo: Frans Schupp for SOMO
to: Frans Schupp for SOMO
Partners
INDEPAZ – The Institute for Development and Peace Studies
Posted in category:
Written by:
Written by:
Yamile Salinas Abdala
Written by:
Camilo González Posso